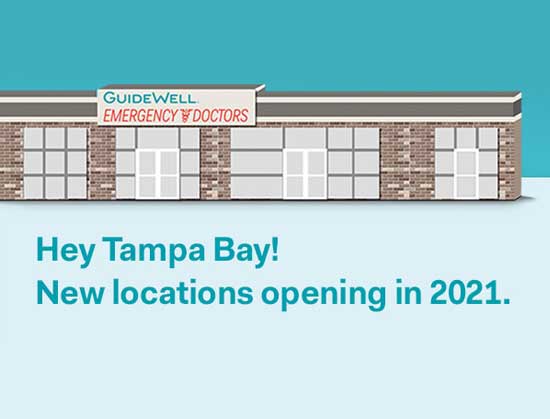 Hey Tampa Bay, say hello to a new type of emergency care!
By GuideWell Emergency Doctors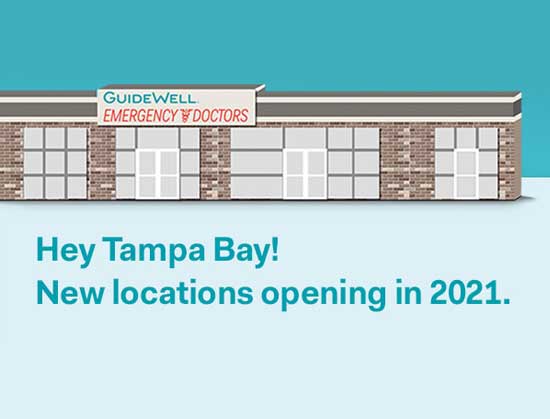 December 30, 2020
GuideWell Emergency Doctors is very excited to announce that throughout 2021, we will open six new clinics in the Tampa Bay area!
EASY ACCESS TO HIGH-QUALITY PATIENT CARE
Just like our Orlando clinics, we will treat major and minor conditions for patients of all ages. We provide many of the same services that you would receive at an ER, but with 1/2 the wait time1 and at 1/3 the cost.2
While providing excellent medical care for life's emergencies, our patients can enjoy a more pleasant experience compared to a typical ER or urgent care setting.
AT EACH OF OUR FACILITIES, YOU WILL BE:
Treated by Board-Certified Emergency Medicine Doctors
Each location will be staffed by Board-Certified Emergency Medicine Doctors and bilingual staff.
Treated for Major or Minor Conditions
We'll be able to perform diagnostic services, like X-rays, CT scans, ultrasounds and lab work. Performing testing in-house allows us to quickly evaluate and diagnose your condition.
Seen Quickly by a Doctor
When you have a health care emergency, and your primary care doctor isn't available, we'll offer care seven days a week with extended hours.
Given Complete Follow-up Care
We'll coordinate your follow-up care with your primary doctor or specialist, and we can arrange direct admittance to a hospital if needed.
SIX NEW LOCATIONS IN HILLSBOROUGH AND PINELLAS COUNTIES
Our new locations will be open 7 days a week with no appointment needed, but online appointments will be available, at the following locations:
West Tampa: 4748 N. Dale Mabry Highway
University: 2330 East Fletcher Avenue
North Tampa: 16318 North Dale Mabry Highway
Largo: 1603 Missouri Avenue North (opening spring 2021)
Palm Harbor: 2375 Curlew Road (opening spring 2021)
St. Pete: 1425 4th Street North (opening late 2021)
1 American College of Emergency Physicians
2 Cost is based on health plan actuarial analysis performed in 2016 that compared cost of hospital-based ER visit versus a GuideWell Emergency Doctors visit.
Guidewell Emergency Doctors Operated by Crucial Care
GuideWell Emergency Doctors is a network provider for all Florida Blue plans.