Keeping cool while having fun in the sun
By GuideWell Emergency Doctors
July 26, 2021
Summertime in Florida means family, friends and fun in the sun! But as Floridians know, the long bouts of hot and humid weather can cause medical emergencies like dehydration, heat exhaustion and heat stroke.
The expert medical teams at each of our GuideWell Emergency Doctors locations are available for you and your family to help diagnose and treat heat-related issues.
HEAT ILLNESS AWARENESS
HEAT STROKE defined as body temperature of 104 degrees Fahrenheit or higher associated with an altered mental state including confusion, hallucinations, agitation, seizures and even coma. Other common symptoms and signs of heat stroke include the absence of sweating, rapid pulse and difficulty breathing. Heat stroke can be fatal and therefore you should call 911 immediately.
However, if you or someone you know might be suffering from heat exposure, but does not have life threatening symptoms, here are other heat related conditions to consider.
HEAT EXHAUSTION is the result of your body overheating, typically from exposure to high temperatures and high humidity. It can be made worse from strenuous physical activity.
Signs and symptoms to watch for include:
Nausea/vomiting
Fatigue/weakness
Headache
Muscle cramps
Faintness or dizziness
Cold clammy skin
Heavy sweating
Weak, rapid pulse
You should seek medical treatment if symptoms worsen or do not improve quickly with rest and hydration.
DEHYDRATION occurs when you use or lose more fluid than you take in, and your body doesn't have enough water and other fluids to carry out its normal functions.
Signs and symptoms to watch for include:
Infrequent urination
Dark yellow urine
Dry skin
Dry mouth
Muscle cramps
Headache
Dizziness
Fainting
You should seek medical treatment if symptoms worsen or there is an inability to rehydrate.
Remember, it is important to receive proper medical treatment. The Board-Certified Emergency Medicine Doctors at our locations can diagnose and treat major and minor injuries, including administering IV fluids, to help put you on the path to feeling better.
According to the CDC, the following are symptoms and what you should do if you or a loved one shows signs of having a heat-related illness.1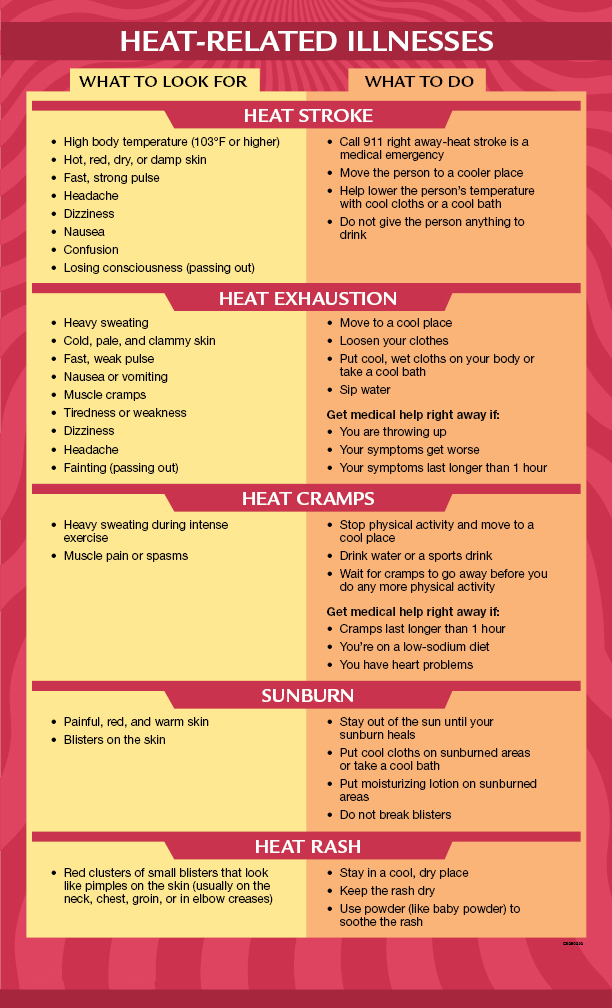 WAYS TO BEAT THE HEAT
The human body is normally able to regulate its temperature through sweating, until it is exposed to more heat than it can handle. But the best medicine is prevention! Here are some tips on how you can keep yourself cool, even when it's heating up.
Avoid being outside or doing strenuous activity during the hottest time of the day.
Take frequent shade/rest breaks and stay hydrated.
Carry water with you and drink often, even if you aren't thirsty.
Be mindful when consuming caffeinated or alcoholic drinks because they cause you to lose more body fluid.
Help prevent sunburn by wearing a high SPF sunscreen.
Wear loose, lightweight, light-colored clothing and a wide-brimmed hat.
Check side effects of your medications — some can decrease the body's ability to stay hydrated or increase its core temperature.
Remember to check in on anyone you think is at risk and might be more vulnerable.
If you or someone you know is experiencing heat-related illnesses, please come see the medical experts at GuideWell Emergency Doctors immediately. Walk-ins welcome!
We see patients of all ages, including newborns, and are open 7 days a week. We combine the ease of a walk-in clinic with the medical team and equipment of an ER, but at an average of 1/2 the time2 and 1/3 the cost.3
If you are having a life-threatening emergency, please call 911 or visit your nearest emergency room.
1 Source: CDC, Materials developed by CDC. Reference to specific commercial products, manufacturers, companies, or trademarks does not constitute its endorsement or recommendation by the U.S. Government, Department of Health and Human Services, or Centers for Disease Control and Prevention. Material is otherwise available on the agency website for no charge: https://www.cdc.gov/disasters/extremeheat/warning.html
2 Cost is based on health plan actuarial analysis performed in 2016 that compared cost of hospital-based ER visit versus a GuideWell Emergency Doctors visit.
3 American College of Emergency Physicians